Carpool with your friends!
Create ridesharing signups for your private group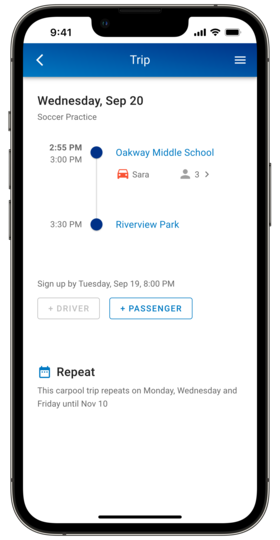 Why you'll love Gomates
Travel with people you know - not strangers
Arrange safe rides for your children
Set up regular commutes easily
Find up-to-date trip info in one place
It's free
How it works
1. Create a carpool
Enter the times and places for your trip
2. Invite your friends
Share the carpool link with your team or group
3. Fill the car
Stay updated as friends sign up to drive or ride
Arrange rides for your kids
Make a carpool group with other families and share rides to school, rehearsals, sports practice, and more. Kids have fun riding with teammates and parents get more free time!
Stay informed
Find everything you need for the trip in one place - when and where to start, route maps, and special instructions from your group leader. Check anytime to see who is going. Your carpool group gets its own page so you can see other planned trips.
Plan a repeating trip
Do you go to the same event each week? Whether you take turns driving or always share one car, Gomates simplifies your commute. Each person chooses which days to drive or ride, and you can all see the status.
Organize travel for a big group
Arrange transportation to tournaments, festivals, and other distant events. Drivers and passengers can see essential trip information and quickly sign up to share rides. Start your group carpool at a local meeting place so everyone in your team or club travels together.
Travel with people you trust
Your carpool group is only seen by people who have your unique link. We don't expose you to strangers through searching. You also have the option of approving each member to join your private group.